Well, we are officially back.  It doesn't look or feel at all the same as it did before, but  as everyone keeps saying, this is "the new normal".  I guess that means the new normal is having to cover our smiling faces, stop singing, dancing and  hugging each other, and following a set of rules that seem to change every minute of every day.  I'm sure many of you would agree with me when I say…it sure as Hell isn't a normal I remotely enjoy living in.
However, making the best of things, and trying to see it from a different perspective, as I lay here listening to the rain pouring down and cleansing the earth, I'm reflecting on the positive things that have come of this pandemic for me.  I met and connected with some new people, and developed very meaningful relationships that may never have happened if not for the isolation.  I re-connected and established deeper friendships with some that I had been too busy to spend time with before.  I've gained so much love and support from all of these amazing humans, and don't think I would have had it in me to re-open again if it wasn't for their support and encouragement.   This has truly meant the world to me, and taught me that people show up for you at the right times, and in the right ways, exactly when you need them to the most.
Now we begin to focus on navigating this new normal and trying to make the very best of it.  Karma may not look the same way, but I will be doing my very best to continue to make it feel the same.  I'm sure we will continue to experience some hurdles and glitches as we walk through this uncertain time,  but I'm confident we will be able to sort them out.   To quote one of my favourite Beatles songs … "I get by with a little help from my friends…. gonna try with a little help from my friends", (I left out the getting high part because I don't do that – how about "I drink wine with a little help from my friends" 😉
So, on that note I'm excited to have teamed up with one of my long time besties, Linsay Derkatz & Trunk Fitness Studio.   Linsay is going to be working with Jake & I serving up your drinks & boards, and is also running her awesome pilates classes at Karma on the side lawn on Sundays.  More collaboration will be happening in the future between our 2 businesses as well!  She and I spent lots of years and many a porch wine talking about taking the leap to pursue our dreams and open our own businesses.  Eventually, we both did it, not too long before covid hit.  During this time we were both devastated and thought we were going to lose everything we had dreamed about and worked so hard for,  but we decided to support each other, be creative and come up with ways that we could work together to help each other keep our dreams alive.  I thank her for always being My Person.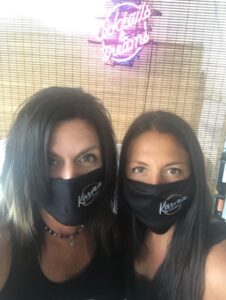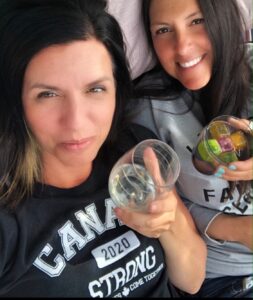 A last thought as I sign off for today,  we are all going through hard times right now, and those of us who own businesses are doing everything we can to survive.  Be cognizant of that. Support each other.  Be empathetic, and try to understand that everyone has the right to their own thoughts and opinions, as well as the right to choose to walk through this in their own way.  Respect that it is ok to have differing opinions.  Do what is right for you. Support local business when and if you can, and please just be kind.
Remember, what you put out in the world does come back…. it's called KARMA 😉
Have a wonderful weekend My Lovelies
Michelle 🙂